Abgesagt
Bisheriges Datum:
Ticket Tour 1 (English) – Dark Worlds - Experience WW2 bombing raids through the eyes of civilians
Brunnenstraße 105
13355
Berlin
Event organiser: Berliner Unterwelten e.V., Brunnenstr. 105, 13355 Berlin, Deutschland
Die Veranstaltung ist leider abgesagt. The event is canceled.
Event info
This tour takes place in English!
DIESE TOUR FINDET IN ENGLISCHER SPRACHE STATT!

Important:
You can book as many tickets as there are available still. F.e., if you can book only one ticket, there is only one left at all. Please don´t try to book seperately, if you need more tickets than the number of tickets you can choose in the shop. That will not work! At the moment, tours takes place with a reduced number of participants so the capacity is strictly limited and the tours sell out quickly.

This entrance ticket is valid for one person only for Tour 1 and only on the specified date and time.
This ticket is to be presented at the entrance at the beginning of the tour.
No exchange or return. Refunds will only be made if the tour is cancelled by us. A payout, also of partial amounts, as well as taking part in another tour than the booked one is not possible.

Reduced rate only for school students, trainees, students, State Volunteer Service providers, disabled people, welfare recipients, and unemployed people (each with appropriate proof).
No discount for retirees. Verification of reduced rate entitlement must be presented at the entrance unprompted.

Important information and eligibility requirements:
Please continue the order process only if you accept these eligibility requirements.

• Participants must be over 7 years of age.
• Sturdy footwear is required for participation (no sandals or flip flops!). The tour is not barrier free.
• Maintain a distance of at least 1.5 meters to other people in the waiting area and during the tour!
• Wearing a face mask is mandatory! No entry without a mask!

Due to the current situation, the tour takes place with a reduced number of participants.

++++++++++++++++++++++++++++++++++++++++++++++++++++++++++++++++
Content of the tour:

Every day, hundreds of people walk past a green door in the Gesundbrunnen underground railway station, unaware that, behind it, lies a subterranean labyrinth full of history just waiting to be experienced.

Berlin was the nerve centre of the Third Reich and therefore one of the main targets for allied bombing during WW II. On this tour, our expert guides will lead you in exploring one of the few remaining bunkers, as it was left after the war. There you will learn more about the life of the average Berlin citizen during the air raids that destroyed up to 80% of the city centre. Travelling through the twisting passages and rooms, you will also see countless artefacts from the war that have been buried for decades. Additionally, by looking into the development of the city´s subway and sewerage systems as well its former pneumatic post, we will provide you with an insight into the 160-year-old underground history of Berlin.

The duration of the tour is approx. 90 minutes

Venue: Brunnenstraße 105, 13355 Berlin (south entrance of the Gesundbrunnen underground station, entrance hall)
Location
Berliner Unterwelten e.V.
Brunnenstraße 105
13355 Berlin
Germany
Plan route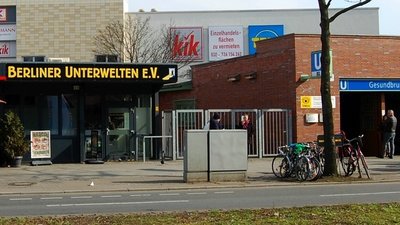 Der Berliner Unterwelten e.V. erforscht und dokumentiert seit 1997 unterirdische Bauwerke der Bundeshauptstadt und macht sie, sofern möglich, der Öffentlichkeit im Rahmen von Führungen zugänglich. Im Jahre 2006 wurde der gemeinnützige Verein mit der »Silbernen Halbkugel« für seine Verdienste im Denkmalschutz ausgezeichnet.